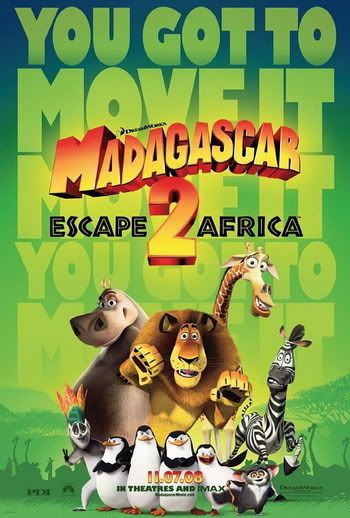 Ficha Técnica.
Titulo: Madagascar 2
Titulo Original: Madagascar: Escape 2 Africa
Género: Comedia Animación
Nacionalidad: USA
Año: 2008
Director: Eric Darnell, Tom McGrath
Guion: Etan Cohen, Eric Darnell, Tom McGrath
Reparto: [Voces Originales] Ben Stiller, Chris Rock, David Schwimmer, Jada Pinkett Smith, Sacha Baron Cohen, Cedric The Entertainer, Andy Richter, Bernie Mac, Sherri Shepherd, Alec Baldwin, Will.i.am
[Voces Castellano]Belén Rueda, Eduardo Aldán, Manel Fuentes, Arturo Valls, Paco León
Sinopsis.
Alex (Ben Stiller), Marty (Chris Rock), Melman (David Schwimmer), Gloria (Jada Pinkett Smith), el rey Julien (Sacha Baron Cohen), Maurice (Cedric The Entertainer), los pingüinos (Tom McGrath, Christopher Knights, Chris Miller) y los chimpancés (Conrad Vernon) se encuentran abandonados en las remotas playas de Madagascar. Para superar este obstáculo, los neoyorquinos han ideado un plan tan loco que puede que funcione. Con precisión militar, los pingüinos han reparado (bueno, casi) un viejo aeroplano accidentado. Una vez que despega el primer vuelo de la compañía Aerolíneas Pingüino, la insólita tripulación consigue permanecer en vuelo el tiempo suficiente como para llegar al lugar más salvaje de todos: las inmensas llanuras africanas, en donde los miembros de nuestro grupo de animales criados en el zoo de Nueva York se encontrarán por primera vez con miembros de su especie. África parece un sitio genial, pero… ¿es mejor que su hogar en Central Park?
Trailer.
http://www.megaupload.com/?d=SVMQ23D4
http://www.megaupload.com/?d=8YVPBFPY
http://www.megaupload.com/es/?d=7L2I8H8Q
http://www.megaupload.com/?d=YJQUM6BG
http://www.megaupload.com/?d=R6LEUKAV
http://www.megaupload.com/?d=NEK7HKC1
http://www.megaupload.com/?d=YP00UFWP
http://www.megaupload.com/?d=36ADE949